This just in:
http://www.cbc.ca/news/canada/hamilton/news/canada-post-honours-canuck-comedians-with-new-stamp-series-1.2750407
The comedians include Jim Carrey, Mike Myers, Catherine O'Hara, Olivier Guimond and (kaff) Martin Short.
Big deal, I got there first with this rubber stamp I made in 1986!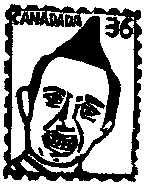 Funny thing, the "real" stamp for Martin Short has the same Ed Grimley image (his only genuinely funny character)....